Earlier this year, I was invited to submit a short story to an anthology.  On the basis of my mantra 'How hard can it be?', I immediately said yes – it was a no brainer!
What I hadn't realised was that the story was to be non-fiction! That small detail changed everything for me. I'm used to writing stories with fictional characters, scenarios and places but all of a sudden, I had to write the truth about me.  That was hard as it meant being vulnerable and exposed.  The page remained blank for several days until the words finally came to me…
I submitted my untitled story in June 2015 and I'm delighted to let you know that it was accepted and will appear in Hot Pink Publishing's anthology "Chocolate and Diamonds for the Woman's Soul" which is due for Kindle release on 13 September 2015, bringing together over 100 women's voices to create an inspirational masterpiece for all ages, with submissions from  the USA, Canada, Australia, South Africa, Germany and the UK
Compiled by Carla Wynn Hall and Laurie K. Grant, the 'Chocolate & Diamonds' anthology is a collection of inspirational, heartwarming and engaging stories of lives changed by courage and determination.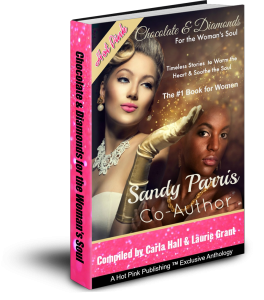 I'm delighted to be a part of such an exciting project together with seven brilliant UK co-authors and friends – Gwen E Cover, Michelle Lowe, Pat Duckworth, My Ly, Denise Harris-Heigo, Kristina Mendez Matejova and Vicki Tongeman.
Our anthology launches on September 13th and is available on Amazon for an introductory price of  99p! using this link
Don't have a Kindle?  No problem. You can download the Kindle App for use on your computer, tablet or phone when ordering.
Here are a few of the wonderful words shared about the 'diamonds' in our book:
"In each story, I can find a part of mine. This book is powerful, inspirational, packed with real women, real emotions, real life lessons. Thank you all for opening up to us, for showing up in your life and teaching us power, wisdom and joy through the tears. Simply wonderful." Axelle
"Chocolate & Diamonds is a unique look into the journey of women, showcasing essays of  Love, Loss, Strength, and Courage. These stories demonstrate the connection between all women… These women share their stories with colour, passion and clarity that will touch the readers heart." Geoffrey
Order your copy from Amazon for the special introductory price of 99p