The Eve Appeal is the only UK national charity raising awareness and funding research into the five gynaecological cancers – ovarian, womb, cervical, vaginal and vulval.
The world-leading research that they fund is ambitious and challenging but their vision is simple: A future where fewer women develop and more women survive gynaecological cancers.
In the UK alone, there are over 21,000 women who are sadly given the news that they've been diagnosed with a form of gynaecological cancer. This equates to 58 women being diagnosed, and sadly, 21 women losing their battle each day.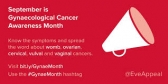 Join Ladies Who Lunch for a gynaecological cancer awareness breakfast and well-being discussion.
Date:   Sunday 24 September 2017
Time:  9.30am – 11.30am
Where: Carluccio's Covent Garden
Cost:  £23.50 pp (Italian cooked breakfast + coffee/tea + soft drink)
Places are available in advance.
To book your place or to receive more info send an email to sandy@ladieswholunchuk.com
To find out more about each of the five gynaecological cancers visit Eve Appeal here