On Saturday 11th August I had the privilege of hosting my fifth Ladies Who Lunch Ascot Race Day for the Dubai Duty Free Shergar Cup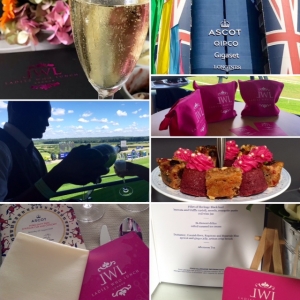 What a fabulous day – phenomenal women, sisterhood, laughter, delicious food and drink in a private box at an amazing venue!
It was a pleasure hosting this event and welcoming so many inspiring women to celebrate the fifth anniversary with me.
Flashback to the late 1990's and early 2000's when I would always volunteer to organise the company's corporate hospitality events which ranged from Vegas-themed casino evenings and Golf days to Clay pigeon shooting!
I have always loved doing this work and meeting so many different people.
Back to 2018… and thank you to my phenomenal Ascot Race Day guests Lerease, Janet, Jennifer, Paulette, Jenny, Shirley, Paula, Yvonne, Sharon and Kim – I cannot thank you enough for your support, encouragement and kind comments.
Your feedback was amazing and I'm already planning for 2019!
#LadiesWhoLunch_UK #Ascot #DDFShergarCup #champagne #afternoontea #cheeseboard #cake #earlgrey #tea #horseracing #womenrock#girlsjustwantohavefun #femaleempowerment #women