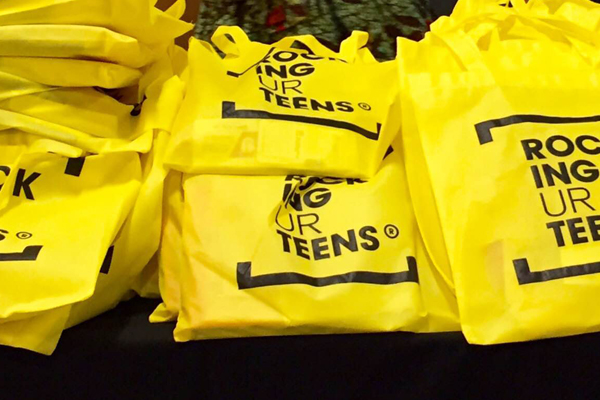 As a co-founder of Rocking Ur Teens CIC, I'm delighted with the outcome of our first Rocking Ur Teens Conference for Girls, which took place on 12 March 2015 at Thomson Reuters offices in Canary Wharf.
Our vision was to design an innovative, positive, aspirational and informative conference to inspire 170 teen girls (aged 13-14 years old), to celebrate their uniqueness, whilst preparing them for life and the workplace.
At 9.30am precisely the usually busy but orderly reception lobby of Thomson Reuters was suddenly filled with the sound of excited chitter chatter, laughter and the eager footsteps of 178 enthusiastic teen girls from over 18 schools as far away as Cumbria and Exeter!
The energetic and interactive day was hosted by award winning presenter Remel London, with keynote speeches by Emma Barnett (Women's Editor of the Telegraph), Yasmin Ali (Young Woman Engineer of the Year 2013) and the Mandeville Sisters (Presenters and vLoggers) sharing life experiences and inspiring messages with our guests.
The keynotes were followed by a choice of mini workshops on leadership, entrepreneurship and technology. A panel Q&A session with apprentices, graduates and interns sharing their experience of working in the corporate world. The final session for the day was about social change where our guests were encouraged to make a pledge to make a difference in their communities.
All in all, it was a fabulous day which whizzed by all to quickly but we're already planning and looking forward to the 2016 event!
Here are a few of the comments we received;
"It was lovely to see our students in a corporate environment and really excited about what their future could hold." ~ Ms J McManus, The Gateway Academy

"As a teenager myself, Rocking Ur Teens really sparked an interest for me. At 18, I haven't got many teens left to "rock" so as soon as I got asked to come along, of course I agreed! I don't think any of us were prepared for what was going to happen… It was an absolute whirlwind of a day, but I am honoured to have been a part of it!" ~ Georgia, Plotr

"This event has inspired my daughter to really reach out and look at all that life has to offer for her, she feels so motivated and has a new lease of vigour to do the best she possibly can and grasp every opportunity available. I cannot thank you enough for this opportunity as its is simply wonderful what you are doing." ~ Mrs T Shah